Management
Roster and scouting
Negotiation and trades
Management
Roster and scouting
Negotiation and trades
The progress of ICEBERG Sports Analytics.
How have we improved hockey analysis in 2018?
Dear Hockey community!
​
We were happy to spend the 2018 calendar year with a growing number of you and to have shared our optical tracking, data collection, video analysis, and analytics. We would like to take some time to reflect on the past 12 months and highlight some of the things we were able to accomplish with your help. We wish you success in 2019 and hope your team is able to have a rewarding finish to the season.
​
During the year, we launched ICEBERG LITE (a new data collection method using a single camera), select teams began applying our large-scale data collection for scouting purposes, and we reached new user levels with over 100 teams worldwide now using our product.
We worked hard to make the ICEBERG portal a convenient and useful tool to help you and your team. Our development team completed more than 80 feature tasks in the 12 month period. Here are just a few main features that were added this year:
​
​
Players page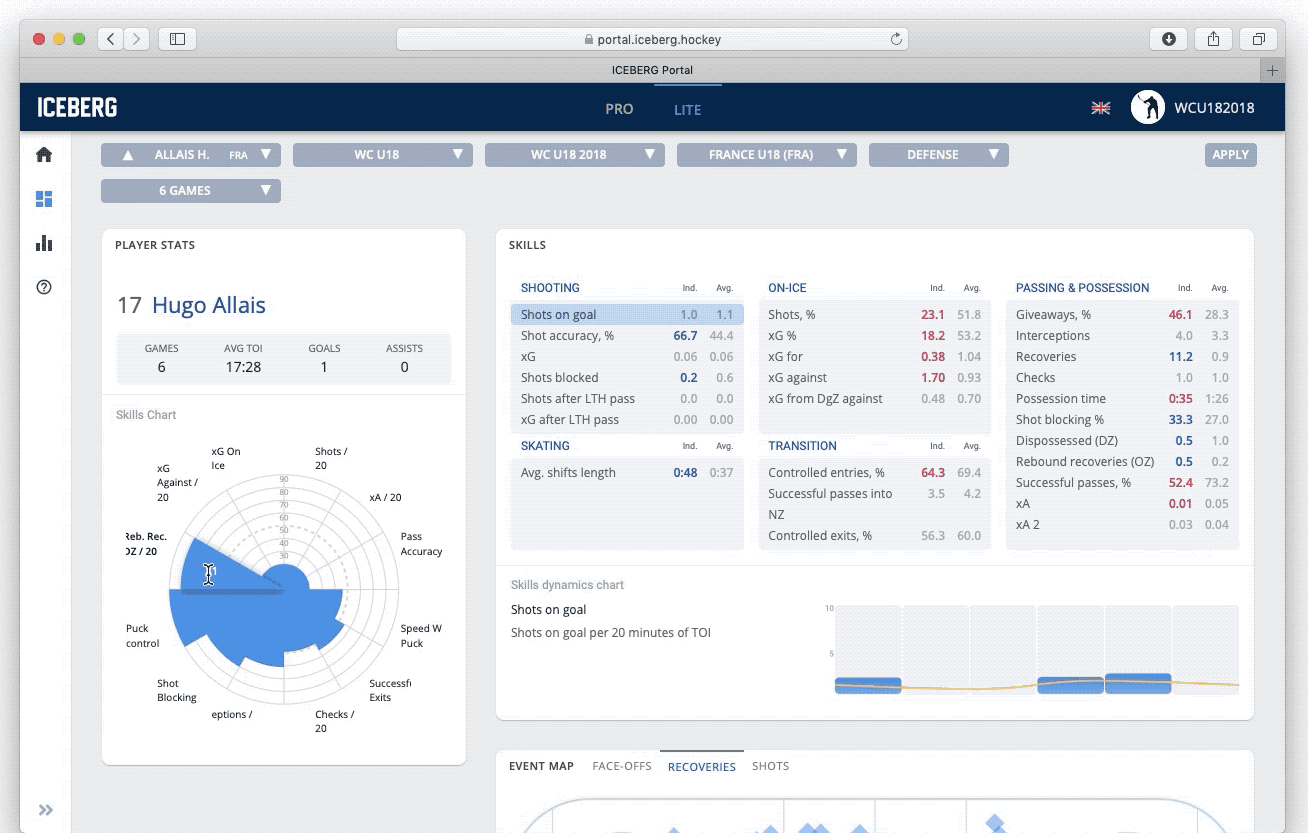 We have collected individual statistics for each player who appears in our database and formatted the content to a single page:
Individual radar chart that shows the player's overall strengths and weaknesses

Skills table where player's performance is compared to the league average

Events maps (faceoffs, recoveries, shots.)
​
Player comparison tool
We have created this page for an easy comparison of players using any combination of metrics the user desires. You choose the metrics for comparison (there are more than one hundred metrics available now) and the comparison methods: absolute numbers (number of goals, minutes, and so on), per 20 minutes of TOI and the average per each player. This allows for the comparison of players from different teams, leagues, and tournaments - which provides a new level of analysis.
In December 2018 we also added the ability to keep only certain players on the comparison map (filter "Compare with") - which makes this tool even more functional regarding specificity.
​
​
Game score
We calculate a "Game Score" for each player based on their performance in a single game or group of games - which serves as an overall metric for player performance. ICEBERG data is used in this model to calculate an overall game score, offensive game score, and defensive game score. As we continue researching parts of the game and creating new metrics, our game score model will continue to be enhanced and create the most insightful game score results possible.
​
​
Heatmaps
In 2018 we added heatmaps to the portal. Unlike a normal shot map, heat maps identify the density of shots and give a more detailed picture of where shots come from when looking at larger sample sizes.
​
​
"Shifts only" accounts for players
Now, any team can get an additional account for their players where only video shifts will be available for viewing. In 2019, we will give coaches the opportunity to make certain statistics available to view in the "Players Account," based on what the coach would like the players to see.
​
Replacing 3-cameras video on the portal
In 2018, at the request of our PRO clients, we began to replace our PRO video (three cameras view) with video from TV broadcasts or video captured by the team with one camera.
We still use ICEBERG video to process games (this provides the necessary data accuracy), but on the portal, you see a more convenient video format for viewing.
​
Automated post-game reports
In the 2018/2019 season, we automated the sending of post-game reports: you now get the post-game report via email immediately after the game is processed and appears on the portal.
Post-game reports are also available for download any time from the portal (on the "Home" page).
​
​
We hope you have had a successful start to 2019 and wish you the best of luck throughout the rest of the year!

In 2019, we will remain dedicated to enhancing our portal so that it becomes even more convenient and useful for you!

Sincerely,
Your ICEBERG team
​